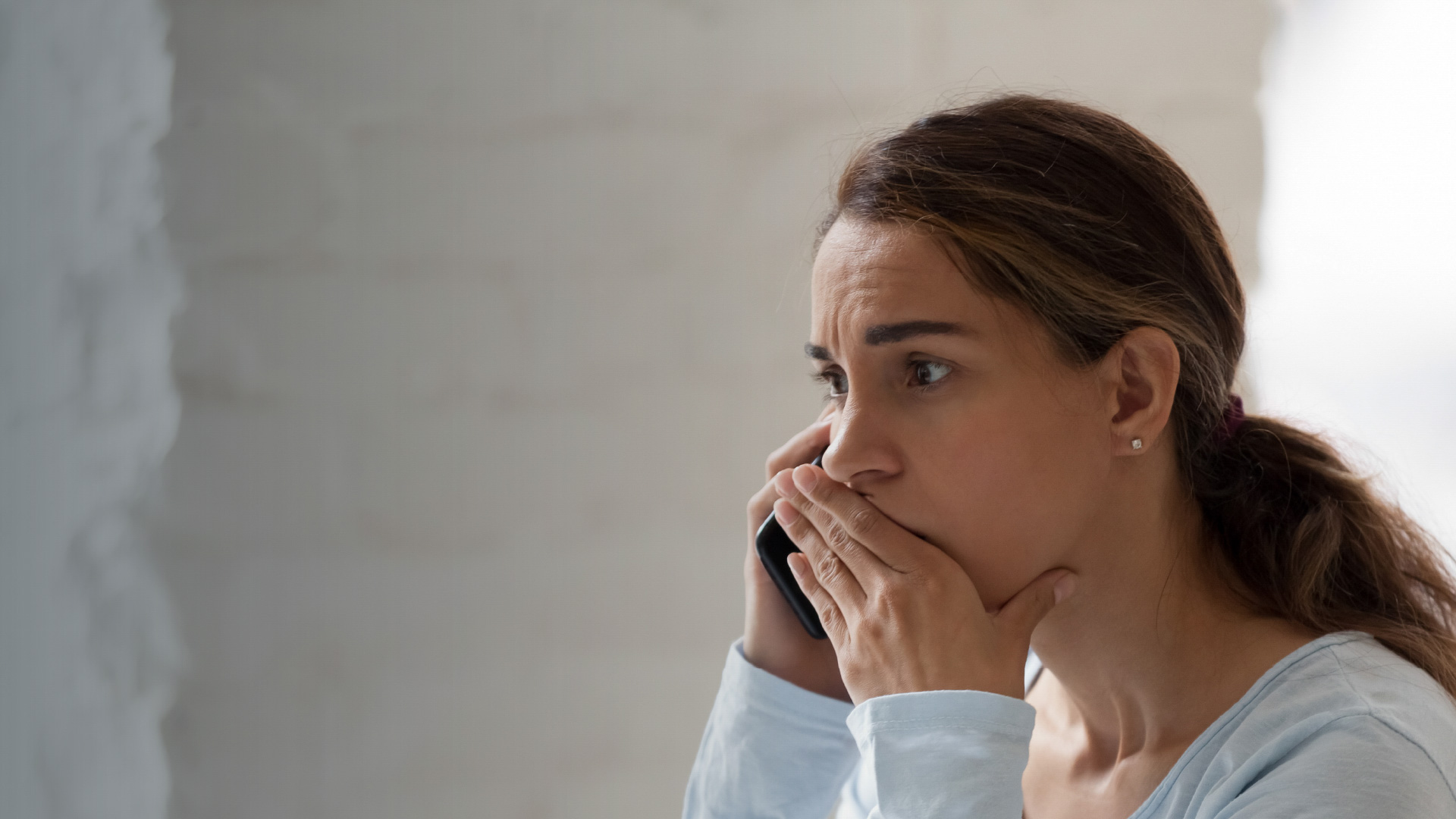 The role of employers in suicide prevention
By understanding the warning signs and implementing programs to support employees, organizations can make a positive impact.
By Bert Alicea | BenefitsPRO
The challenges of the last year have changed the conversation about mental health in the workplace, prompting an increasing number of organizations to introduce or expand initiatives to support employees' mental well-being. September is Suicide Prevention Month, and now more than ever, it is important to remember that increased stress and anxiety as well as conditions like depression can contribute to suicidal thoughts.
Brokers and benefits consultants are uniquely positioned to partner with their clients to provide critical resources, including workplace training, counseling and more. By proactively putting programs into place that support employees, as well as raise awareness of the possible warning signs of suicide, organizations can help make sure those at risk get the help they need and take steps to prevent tragedy.
The ongoing need for mental health and well-being support
Employees consistently benefit from mental health and well-being support, regardless of the environmental circumstances happening at the moment. Brokers and benefits consultants who work with their clients to implement long-term resources like Employee Assistance Programs (EAPs) and more can ensure no gaps in care, regardless of what comes next.
Mental illness affects millions of Americans, even before the COVID pandemic, yet not all are receiving the support and help they need to address these common issues. Approximately 20% of adults in the U.S. experience mental illness each year, yet only 43% of those impacted have sought treatment. Further, 65% of U.S. employees report that work is a significant source of stress.
The need for mental health support has been exacerbated in the last year by COVID-19 and other challenging situations occurring simultaneously. As expected, employees are experiencing an increase in stress, anxiety, relationship issues and depression as a result of the pandemic. According to Health Advocate's data, in some instances, these types of cases more than doubled from 2019 to 2020.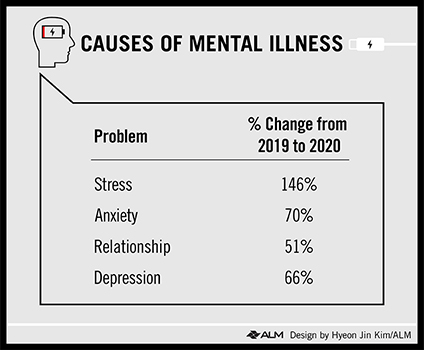 Because many of these conditions have the potential to lead to suicidal thoughts, it is critical to consider the full breadth of needs and provide comprehensive programs to address challenges across this broad spectrum. Over the past year, many organizations have introduced resources and programs to support employees, both in-person and working remotely, including teletherapy, stress management and more. Addressing the conditions and related factors that may lead to suicidal thoughts can make a big difference in awareness and prevention.about:blank
Identifying potential warning signs
Prior to the COVID-19 pandemic, there had been a steady increase in suicides in the workplace. Based on data from the Bureau of Labor and Statistics, there were 307 occurrences in 2019, the highest in more than 25 years since this information was first measured. Factors that may contribute to this increase include high stress levels either at home or work, pre-existing mental health conditions such as depression, and access to the means to commit suicide, such as firearms or prescription medications. Additionally, research shows that people in certain occupations, such as law enforcement, are at higher risk for suicide than others.
While there were fewer suicides overall in 2020, as the stress and anxiety of the last year continues, understanding the potential signs and red flags can make the difference in preventing a tragedy. There are some key signs that can indicate an employee may be at risk of suicide or self-harm, including:
Prior suicide attempts
Change in normal behavior or dramatic mood swings, such as withdrawing from social encounters or becoming irritable
Increased absenteeism or presenteeism
Mental illness including depression
Substance abuse or increased drug or alcohol use
Access (or seeking access) to the means to commit suicide, such as firearms or pills
Talking about feeling trapped
Giving away prized possessions
When combined with other risk factors, a recent traumatic event, such as a break-up, death in the family, health diagnosis or financial issue, can also increase risk. Considering the ongoing challenges and uncertainty many people are facing right now, it is even more important to be aware of employees' well-being.
While having one of these risk factors does not necessarily mean someone will try to take their own life, these signs can all indicate a potential issue. The earlier managers or colleagues identify a problem and guide an employee toward helpful resources, the sooner that employee can get the help they need.
Workplace strategies to support employees
First, it is important to understand that unfortunately, not every suicide can be prevented. However, by understanding the warning signs and implementing programs that can support employees, organizations and their broker partners can make a positive impact.
One of the most important resources that organization can offer is workplace training. Raising awareness of this important issue can help both employers and employees identify the potential warning signs of suicide so they can step in to make sure those at risk get the help they need. Coworkers may be the first to notice changes in someone's behavior, so it is critical that all supervisors and employees receive training to understand more about the risk factors for suicide and what to do if they feel someone may be at risk.
Training and open discussion about mental health issues and suicide can also help reduce the stigma around these topics, increasing the chances that those experiencing challenges may seek out help. This can also help create a supportive work environment where employees feel more comfortable reaching out for assistance.
These training sessions also provide a great opportunity to distribute information about suicide awareness and prevention that people can refer to, whether they are at risk or think someone else may be. Making employees aware of available resources ensures they know where to turn if help is needed. This can include the Employee Assistance Program (EAP), which can provide confidential assistance and support as well as counseling to those who may be at risk. An EAP can also help employees address issues that may lead to increased risk of suicide, such as family issues, substance abuse and depression. Managers and coworkers can also guide colleagues to these resources if they think someone may be contemplating suicide.
Valuable resources in challenging times
With many employees continuing to work remotely some or all of the time, organizations and their partners may need to think creatively to ensure they are connecting with employees and providing valuable resources to respond to the individual needs of employees and their family members. In addition to regular check-ins between managers and their teams, offering alternative means of support can help bridge the gap when unable to meet in-person and ensure no one feels isolated.
With COVID-19 restricting opportunities to meet face-to-face, Health Advocate has seen an increase in utilization of telephonic and video counseling, as well as text messaging, to enable members to access expert clinical support from Licensed Mental Health Counselors.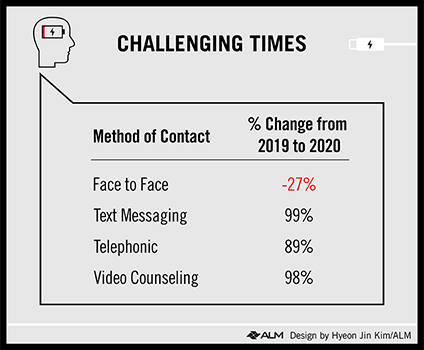 Being able to adapt to the situation and continue to provide support is critical in high-stress environments. Offering multiple options to access care means employees can continue or establish care for their mental health and well-being without delay, even during a global pandemic.
Brokers and benefits consultants can work with their clients to implement a multi-channel approach, making it easier for employees to connect to care whenever and wherever works best for them. In addition to telehealth opportunities, this can include virtual resources like workshops and webinars, among other initiatives.
Different people in different situations have different requirements, and having the ability to access care in the way meets the individual's needs increases the likelihood of seeking and continuing with support, reducing the risk of tragedy.
Responding to workplace suicides
As mentioned, despite employers' best efforts, not every suicide can be prevented, and these events can have a major impact on the workplace, affecting everyone with whom the victim worked and had contact with.
While not an easy topic, it is recommended to encourage employers to have a response plan in place before a tragedy occurs, outlining initial steps and making sure all management representatives are aligned regarding communication and responses.
When a suicide occurs in the workplace or a coworker commits suicide, it is critical that employers provide resources like an EAP and on-site counseling to help employees cope with the effects of this tragedy. This will be especially critical for those who worked closest with the victim. An EAP can also help develop an immediate response to help support employees, including on-site counseling and communications about the situation. It is also critical to reach out to the victim's family to offer condolences and support during this difficult time.
Planning for what comes next
As brokers and benefits consultants, it is important to anticipate and address the residual repercussions of the COVID-19 pandemic, helping employer clients more effectively support employees to ease this transition and address the issues that have the potential to lead to suicide. Many employees will need assistance managing their mental, physical, and financial well-being.
Emerging substance abuse, persistent stress, dealing with trauma – these are just a few among the wide range of lingering effects of the pandemic that can have a long-term impact and increase the potential for suicide among employees. Organizations and their partners have an opportunity to implement resources, strategies and other initiatives necessary to support employees now and into the future, creating the foundation necessary to have a positive impact.
To read the full article, visit BenefitsPRO here.
Norbert "Bert" Alicea, MA, CEAP, is executive vice president of EAP+Work/Life Services at Health Advocate. Alicea is a Licensed Psychologist and premier trainer with more than 30 years of experience in the EAP field. He has a specialization with executive coaching and management consultations in assisting with difficult workplace situations and also conducts corporate training locally and on a national level on topics including Harassment Awareness, Violence Prevention, Drug Free Workplace, DOT Compliance Training, and EAP Supervisor Training for High-Impact Referrals.