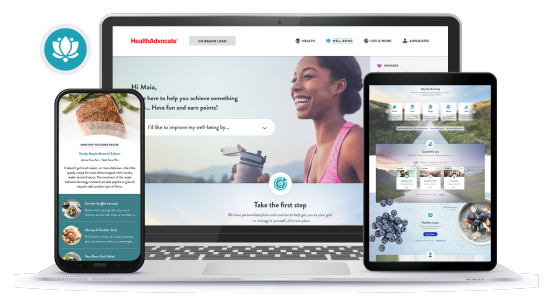 Health Advocate Launches Reimagined Be True Well-Being Program
Comprehensive solution combines new member-focused digital platform with live coaching, focusing on all dimensions of well-being
PLYMOUTH MEETING, Pa., Feb. 2, 2023 /PRNewswire/ — Health Advocate, a leading provider of integrated health advocacy and navigation, well-being and behavioral health programs, announced today the launch of its all-new Be TrueSM Well-Being program. This total well-being experience utilizes an interactive, personalized digital platform to guide members as they work toward their goals, motivating positive behavior change and improving outcomes.   
The comprehensive new program touches on every aspect of well-being through four pillars: Be Well, Be Balanced, Be Connected, and Be Successful. Through the immersive member-focused platform, members can access curated content and activities or connect directly with an experienced Wellness Coach to create a tailored plan and help support their journey. The inclusive, easy-to-navigate platform ensures members can find what they need, when they need it, to take steps toward achieving their unique goals.
Health Advocate experts created Be True by leveraging a combination of:
Data-driven design to personalize the experience for members and enable organizations to customize components such as boosted incentives, targeted communications, enhanced reporting and more;
Well-researched theories of health behavior to help motivate action toward individual goals, including Social Cognitive Theory, Transtheoretical Model and Stages of Changes, and the Health Belief Model, among others; and
Decades of experience supporting members' health and well-being and partnering with organizations to build impactful well-being strategies that align with each their specific culture and goals.
"We're thrilled to introduce organizations and their employees to this next iteration of our well-being program," said Abbie Leibowitz, M.D., Chief Medical Officer, Founder and President Emeritus, Health Advocate. "This enhancement was inspired by our clients and members, and we created the new platform to align with their goals and provide the resources necessary to support employees' total health and well-being. Whether leveraging expert guidance from our Wellness Program Consultants or Coaches or using the intuitive self-service tools available on the new platform, the reimagined Be True program is designed to ensure employees thrive."
Be True features a number of resources to prompt steps toward positive behavior changes, including:
Personal Health Profile and Personal Pathfinder – Our comprehensive assessments drive the member experience. Helps members determine their personal path to well-being and assess their priorities
Personal Pathways – Goal-driven to build healthy habits, learn new skills and increase self-efficacy
Workshops and Pulse Checks – Provide educational content and experiences to increase members' well-being knowledge
Challenges and Trackers – Interactive tools to help members jump-start healthy changes and monitor their progress
Additional Features – Learning Center with thousands of articles and videos on virtually every health and well-being topic, recipes and meal plans, and well-being benefits hub
Additionally, incorporating other Health Advocate solutions such as Advocacy, the Employee Assistance Program, and more can further improve outcomes by focusing on physical, emotional, social, financial and mental health. This integrated approach addresses the entire spectrum of well-being and makes it easier for employees to navigate to the care they need. To request a demo or more information, please call 866.799.2655, or email us at info@HealthAdvocate.com.
About Health Advocate
For more than 20 years, Health Advocate has been making healthcare easier for thousands of organizations and millions of their employees and family members nationwide.
Our solutions leverage a unique combination of expert-led, compassionate support using powerful predictive data analytics and a proprietary technology platform to engage members in their health and well-being.
Health Advocate's members enjoy an award-winning, personalized concierge service that addresses nearly every clinical, administrative, wellness or behavioral health need. Our clients benefit from high levels of engagement, improved employee productivity and health, and reduced medical costs, while simultaneously streamlining and enhancing their health benefits offerings.